In my gallery tours I see a lot of art shows, some of them are good and some are average. But this month, I promise you that the shows are simply Superb! And Suitable for everyone to go and enjoy…   So, prepare your diary for May-June 2015, two hectic months of must-see art exhibitions, which include the National Gallery's 'Inventing Impressionism', Tate Britain's Nick Waplington/Alexander McQueen: Working Process and more.
Inventing Impressionism
national gallery

This is the most significant impressionist show you'll ever see. The Art is sensationally beautiful and at the same time also cutting edge. Through the Curator's beautiful work, you will see this art from a new perspective; the show creates the back science of the art market at the time, emphasizing the art dealer's, Paul DURAND-RUEL, work of promoting the impressionists to be his number one sales.
National gallery-Trafalgar Square, London WC2N 5DN
Until May 31, 2015
http://www.nationalgallery.org.uk/inventing-impressionism
Collect
Saatchi Gallery
Hurry up and buy tickets for the" Annual Contemporary Craft Fair" with 35 international
galleries showcasing the most exciting, experimental and world-class examples of applied arts craftsmanship. As well as a preview of the latest Crafts Council Touring
Exhibition 'I Am Here' and a programme of talks with curators, gallerists and exhibiting
artists, COLLECT Open provides artists with the space to explore new ideas, which this year focus on textiles and furniture.
Saatchi Gallery , Kings Road London, SW3 4RY,
Friday May 8 – Monday May 11 ,2015.
http://www.saatchigallery.com/current/collect_2015.php
Nick Waplington/Alexander McQueen: Working Process
Tate Britain
A unique opportunity to see this exquisite collaboration between Alexander McQueen Known for his controversial and unorthodox approach to fashion and the photographer Nick Waplington, which creates together a unique record of McQueen's working practice. The photographs in the show present the creation of the late fashion designer's final Autumn/Winter 2009 collection, 'The Horn of Plenty', which reused elements from McQueen's previous collections.
Waplington's photographs successfully describes the creative process of sketching designs through to the Paris catwalk and pair them with images of recycling plants to comment on destruction and renewal.
Tate Britain, Millbank, London SW1P 4RG
Until Sunday May 17, 2015
http://www.tate.org.uk/whats-on/tate-britain/exhibition/nick-waplingtonalexander-mcqueen-working-process
Thomas Struth
Marian Goodman Gallery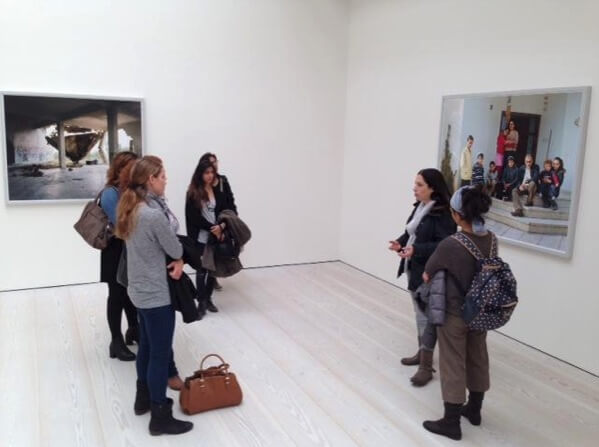 Thomas Struth is best known for his family portraits and for capturing the streets of New York in large format black and white photographs. In this new body of works he is trying to observe the human drama of the continuing conflicts of the different places that he visited while travelling in Israel and the Palestinian Authority. As a photographer/artist myself, I have followed closely Struth's works and practice during his artistic carer, and I was intrigued by this new series of images following his recent project "This Place" (http://www.this-place.org/present), which are interwoven in this show for the first time: these are photographs Struth made in Israel and the Palestinian Authority and in places of scientific and technological research in California. Struth travelled for over six years, to Israel and the West Bank, including to Tel Aviv and Nazareth, photographed various locations.
Marian Goodman Gallery,   5-8 Lower John st. London, W1F 9D7
Until 6 June 2015
Art 15: London's global art fair
150 of the world's most exciting galleries from 40 countries will showcase the masters of the modern era with works of leading international artists from the contemporary scene. From Amman to Amsterdam, New York to New Delhi and Sao Paulo to Seoul, this important Fair will present art from across the globe.
Alongside tightly curated gallery sections, a public programme of talks and panel discussions, expert-led tours, artist installations and projects and specially curated initiatives will run parallel to the Fair.
Olympia Way, London, W14 8UX.
21-23 May 2015
http://www.artfairslondon.com/
Deutsche Börse Photography Prize 2015
The Deutsche Börse Photography Prize is a competition that annually rewards a photographer who has made the most significant contribution to the photographic medium in Europe during the past year.
This year's shortlist reflects a diversity of attitudes towards the medium of photography as well as reacting to and pointing out difficult Issues by composing social documentary, portraiture and contemporary art photography.
The Photographers gallery, 16–18 Ramillies Street, London W1F 7LW
Until 7 June 2015  
http://thephotographersgallery.org.uk/
Calanit Schachner Laufer is a visual artist, specializing in photography, and currently also running contemporary gallery tours (English/Hebrew) for individuals and groups in London.
She studied at Bezalel, Jerusalem (BFA) and Goldsmiths, London (MA).
For more details about Art Gallery tours please see: https://www.facebook.com/calanitartist
To book a gallery tour with Calanit Please email her: [email protected]