London has many tourist attractions: fun, adventurous, for children and families, for museum lovers – there is something for everyone!
We've listed the best attractions & activities in and around London, so you can choose what's right for you.
Official websites for main attractions in London can be found in the following links:
Madame Tussauds, London Eye, Shrek's Adventure, The London Dungeon, Warwick Castle
Football lovers, Go to the page Tickets for Football in London.
More Attractions & activities in and around London for you and your family:
London Zoo
Legoland
Kew gardens
The Sky Garden
Madame Tussauds and the London eye are on sale.
The Harry Potter studio
Tours of London football stadiums
The Shard

Museums in London:
Tate Modern Museum of Modern Art
British Museum
Victoria and Albert – V&A Museum
Natural History Museum
Science Museum
The attraction!
London Eye
The big Ferris wheel on the south side of the Thames was originally scheduled to work for the millennium. However, it is still in operation and has become London's most famous landmark and a great opportunity for visitors to enjoy a unique view of London.
The wheel opened in 1999 and was previously known as the Millennium Wheel, although it has since been sponsored by a number of companies.
Today it is sponsored by Coca-Cola and is officially called the Coca-Cola London Eye.
The London Eye is 135 metres high and was the tallest wheel in the world when it was built.
It is currently the tallest wheel in Europe.
There are 32 capsules that slowly rotate around the wheel at a speed of 0.9km/h. Each capsule holds 25 people and you can choose to stand or sit.
It takes around 30 minutes to complete a full circle, plenty of time to enjoy the stunning London skyline and 360 degree views further afield!
Madam Tussauds
 

– Wax museum

Probably the most famous wax museum in the world. It is one of London's most popular attractions and there is always something new to see, with the recent introduction of some of Marvel superheroes and David Bowie's infamous alter ego, Ziggy Stardust!
Harry Potter – Warner Bros Studio Tour
One of the most recent additions to London is The Making of Harry Potter Tour at Warner Bros. Studio London, and due to its popularity you may need to buy tickets well in advance and online to save time and money.
Tickets, including a pick-up bus from central London, are available from Golden Tours.
LEGOLAND Windsor Resort
The famous world of Lego has come to the UK. It's not far from
Heathrow Airport and the beautiful town of Windsor. We suggest you make a day of it and visit Windsor Castle while you're there!
LEGOLAND is a Lego paradise. They update the park regularly and
recently opened a new Star Wars area. A great day out for the whole family!
For return tickets with Golden Tours and an overnight package, visit the Legoland Holidays website.
Thames River Cruise with / without Afternoon Tea
If you want to see London from a different angle!
A Thames River Cruise with a traditional afternoon tea can be a great option.
During your cruise you will be served finger sandwiches, a selection of traditional cakes and of course tea or coffee. For those who want to spice things up, there is also a bar where alcoholic drinks can be purchased.
Tickets are available from Golden Tours
For more deals see Discount London..
Heads up: The Duck Tour is NO LONGER available in London.
DreamWorks Tours Shrek's Adventure
Are you a fan of the Shrek movies?
Then head to DreamWorks Tours Shrek's Adventure!
You will travel through a magical adventure that includes 4D video, moving from scene to scene in search of Shrek. Kids will love it and there are enough hidden messages to keep adults entertained too.
Tickets are available from Expedia and can also be purchased as part of the packages below.
London Observation Decks – Sky Garden
A great place to see London from above.
Located at the top of 20 Fenchurch Street, this building is often referred to as the 'Walkie-Talkie' because of its appearance. From the outside it looks like either a walkie-talkie or a 90s mobile phone!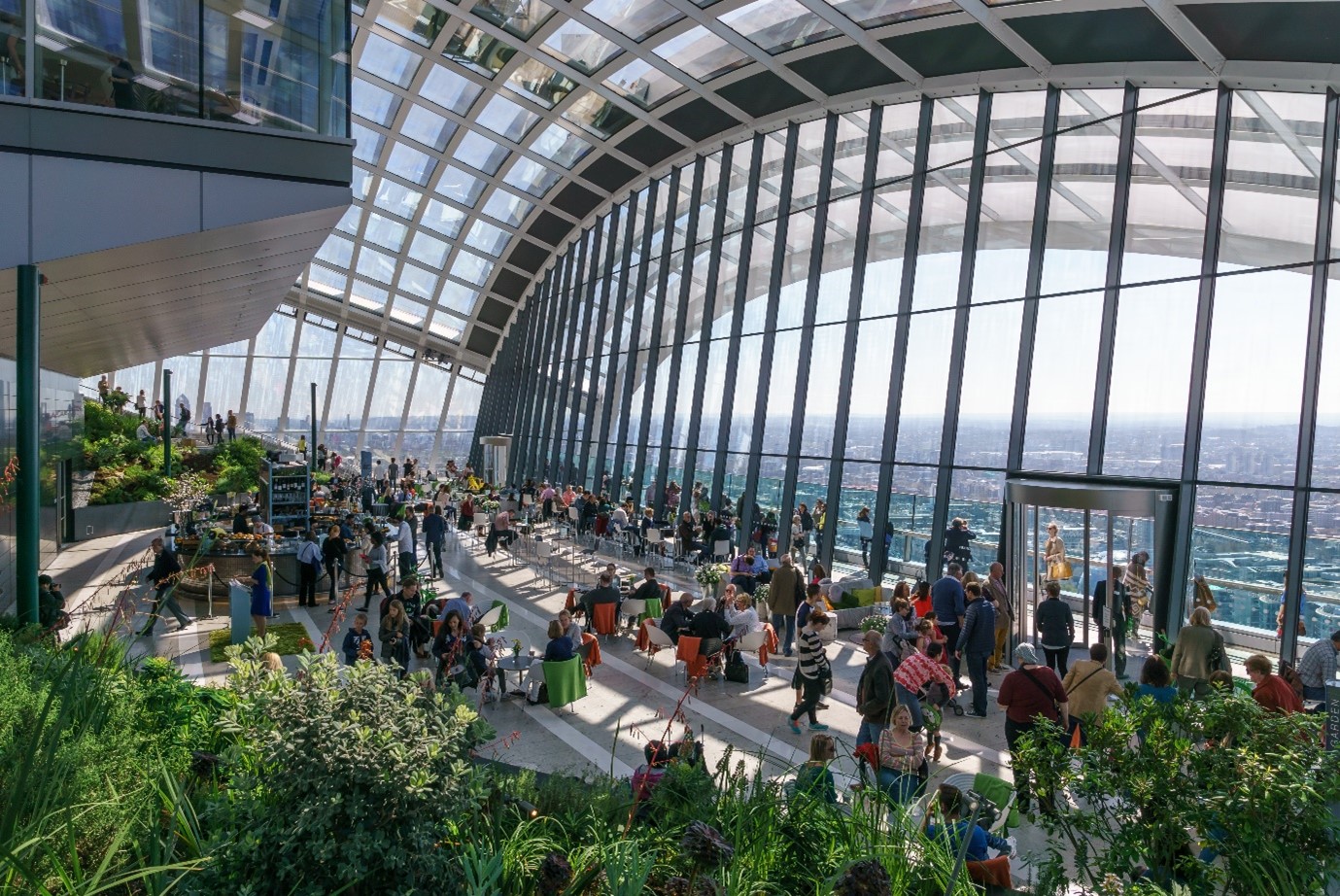 On the 35th floor of this building is the stunning Sky Garden. It has a bar and a restaurant and best of all – it is free to enter!
If you want to go, you need to book at least 2 weeks in advance.
The Shard
The UK's tallest building!
If you are looking for a (very) romantic evening or a place to celebrate a special event, where you can enjoy a well presented, delicious cocktail (or a few!), The Shard is the place to be!
Featuring restaurants and bars with breathtaking views of London, views that even make that make even the toilet an attraction!
Could be pricey, check their website for menus and prices; but it will be a night to remember.
Heads-up: The Shard has a smart casual dress code, so heads up if you want to get and blend in!
Ice Skating
There are a few skating rinks open during the winter in London, usually between November and February. However, there is also a permanent ice skating rink at Alexandra Palace in north London, near Wood Green. Underground station on the Piccadilly line, where the first TV signals in the UK were signals were transmitted in the UK!
One of the seasonal rinks is at Canada Square Park which is located in Canary Wharf.
Canada Square Park will reopen in October 2023 and should stay open until late February(!).
London Museums
Heads-up: Admission to most museums is free. However, some may require you to book tickets in advance.
London is rich in museums to suit all tastes. Here are our top picks:
Tate Modern – Modern Art Museum
The museum is located on the Southbank of the Thames, opposite St Paul's Cathedral.
It contains many famous works by modern artists.
The museum has a number of permanent galleries, which display a rotating selection of works from its vast permanent collection, as well as several other temporary exhibitions.
Admission is free. There is a charge for some of the temporary exhibitions.
Opening hours are Monday to Sunday 10.00-18.00.
For more information and to see what's on display this month, visit the museum's website.
The British Museum
The British Museum is the world's first national public museum, founded in 1753.
At the British Museum you can experience and discover different cultures from two million years ago to the present day.
Be sure to visit the Reading Room! It is a majestic room located in the most important part of the museum, the centre of the Great Court.
Interesting fact! Many of the main bookshelves are made of iron to support the weight of the books, but also to protect them in case of fire.
As this is a public museum, entry is FREE. Opening hours are from 10:00 to 17:00 and on Fridays until 20:30. Advance booking is recommended.
For more information and to see what's on display this month, visit the museum's website.
A trip down Exhibition Road in West London takes you to 3 of London's biggest museums:
The Victoria and Albert Museum (V&A)
The museum was created to bring foreign culture to the UK before cheap air travel and budget airlines made it easily accessible. Now the largest cultural museum in the world, the V&A has several permanent and temporary exhibitions, all set around a beautiful courtyard with a pond in the middle.
Admission is free, although some of the temporary exhibitions cost money.
Opening hours are from 10:00 to 17:00. However, it is advisable to arrive in advance as the hours may change.
For more information and to see what's on display this month, visit the V&A website.
The Natural History Museum
The museum has a lot to offer and is particularly recommended for families with children due to the impressive dinosaur exhibit!
As with most museums in London, entry is FREE. Only certain exhibits may cost admission.
Opening hours are Monday to Sunday 10:00 to 17:30.
For more information and to see what's on display this month, visit the museum's website.
The Science Museum
We recommend the Science Museum for the whole family. They have recently added a new exhibition, an IMAX documentary.
Admission to the museums is FREE, except for a few exhibits that are shown from time to time.
Opening hours are Monday to Sunday from 10:00 to 18:00 with last admission at 17:15.
Please note: Some exhibition rooms close at 17:30.
Advance booking required.
For more information and to see what's on display this month, visit the Science museum website.
'Museum Lates' in The Science Museum
There are various dates when the museum hosts 'Museum Lates' for adults only (over 18), with food and alcohol available for purchase.
This allows adults to explore the museum at night and enjoy themed evenings such as games, stargazing and music!
Admission is FREE and starts at 18:45 and ends at 22:00.
There is a small charge for some activities. For example, £2 per person for the pub quiz night, which we highly recommend!
Check out the upcoming events on the Museum Lates page for more details.
Changing of the Guards – Buckingham Palace
The Changing of the Guard at Buckingham Palace is an impressive show that attracts many tourists every year. If you want a good view, we recommend arriving early, even an hour before, to be at the front of the line. The best places to stand are either right at the gates or from the steps of the Victoria Monument, as you'll be higher up and facing the gates! If you don't feel like hanging around for an hour, you can always come a few minutes before to soak up the atmosphere, but you might not see as much.
The official start time is 11:00.
August to May – Mondays, Wednesdays, Fridays and Sundays
June and July – Daily
It is always best to check the timetable before you go in case there are any changes.
There is no need to buy a ticket, just turn up and enjoy :)
Kew Gardens
Founded in 1759 by George III's mother, Princess Augusta, it began as a nine-acre botanical garden!
The Royal Botanic Gardens at Kew, also known as Kew Gardens, was declared a UNESCO World Heritage Site in 2003.
The gardens cover over 300 acres and have one of the largest collections of plants in the world!
If you want to take it ALL in, we recommend a visit of between 4 hours and a full day, allowing you to wander around the greenhouses, woodland garden, dazzling flower beds and water features.
Don't miss the Treetop Walkway, an 18 metre high, 200 metre long walkway through the trees with spectacular views over the gardens.
Opening hours are Monday to Friday 10:00-19:00. Please note last entry is 18:00.
Weekends & Holidays 10:00-20:00. Last entry is 19:00
To book your tickets click here.
For full information please visit the Kew Gardens website.
Tickets and packages:
The Merlin's Magical Pass
The Merlin's Magical Pass is a 3 in 1 package!
Choose 3 great family attractions from the list below. Follow the links for information and prices for each attraction:
Madame Tussauds London
lastminute.com London Eye
SEA LIFE London Aquarium
Shrek's Adventure! London
London Dungeon
Remember: You'll have up to 90 days from the date of the first attraction to visit your chosen sites.
The Merlin's Magical Pass is a 5 in 1 package!
You can enjoy ALL of these attractions in one package: Sea Life London, London Eye, Shrek's Adventure, London Dungeons, Madame Tussauds
You can also choose a 2 for 1 or 3 for 1 pack:
2 for 1:
London Eye + London Dungeons
London Eye + Madame Tussauds
London Eye + Sea Life
London Eye + Shrek
3 in 1:
London Eye + Dungeons + Sea Life
London Eye + Sea Life + Shrek
London Eye + Madame Tussauds + Sea Life
London Eye + Madame Tussauds + Shrek
Please note: The Merlin's Magical Pass are currently available until 1 December 2023
The London Pass attractions
If you choose to buy The London Pass, it means that you purchased a package that includes your attractions and transportation altogether!
There are many attractions available like: The Tower of London, London Zoo, and many more. However, we recommend to check the list of attractions prior purchasing as currently many major attractions are NOT included in the London Pass.
Your Oyster card will be pre-loaded with credit to match the duration of your London Pass.
You can travel any time, any day on any London transport network and benefit from a daily limit which means you won't be charged after your first three journeys.
Most of the attractions (over 40!) included in the London Pass are in central London, zones 1-2. However, the Visitor Oyster card is valid throughout Zone 1-9. We recommend you order your card in advance!
Please allow up to 2 weeks for delivery to a UK address.
For addresses outside the UK, please allow up to 4 weeks for delivery.
London Pass offers discounts on children's tickets
AND our readers get an extra 5% discount! Don't forget the code: LP5ASKA
Golden Tour packages – Our favorite.
A great extension to Merlin's Magical London is offered by Golden Tours with their 'Buy 2 Enjoy 5' attraction package, which includes:
– Merlin's Magical London Pass for 5 attractions:
Madame Tussauds
The London Eye
SEA LIFE London Aquarium
DreamWorks Tours Shrek's Adventure
The London Dungeon
– A 24 hour 'Hop on Hop off' bus tour
We invite you to check out the map
– A free walking tour:
A two-hour tour where you visit royal sites and watch the Changing of the Guard, or play detective as you travel through Victorian London to investigate the murders of Jack the Ripper and enjoy a complimentary 24-hour hop-on, hop-off cruise on the River Thames.
– A complimentary cruise available on the 24 hour hop on hop off bus tour:
Sightseeing cruise along the River Thames in the centre of London: From Westminster to Tower Millennium Pier or vice versa.
For more information about this package – click here
For more attractions and deals – Golden Tours
Additional websites & deals:
Expedia UK
A well-known site with great Attraction page with discounts for both children and senior citizens (over 60s).
You will find a discount on the London Eye, Madame Tussauds and many more.
If you join the Expedia Rewards, you can get even more discounts and earn points. It is free to join!
For more deals, combinations and discounts, visit the Big city saver website!
Groupon
An international deals & offers site. One of the biggest in the world.
Groupon is especially recommended for getting deals & discounts on activities and restaurants!
We highly recommend you check out our London musicals page.
Seeing a play or musical in London is a must!
For Football games in London updates & tickets – click here!
ALL you need to know about our recommended Hotel & apartments – click here!
ALL you need to know about the Public Transportation in London – click here