Mrs. Doubtfire
Seeing Mrs. Doubtfire really touched me as an actress and as the child in me, and as everyone who appreciated and loved Robin Williams.


The Storyline of Mrs. Doubtfire the musical
Daniel Hillard (played by Gabriel Vick) is getting divorced and in order to spend more time with his children, with the help of his brother Frank and Frank's boyfriend, he pretends to be an older British woman and is hired as his own child's nanny, "Mrs Doubtfire"!
Although it's a brilliant comedy, the story touches on serious issues that many of us are familiar with.
Mrs. Doubtfire the musical – The cast
When we first heard the voice of Mrs. Doubtfire on stage from the fantastic actor, Gabriel Vick, you could feel and hear the reaction of EVERYBODY in the audience.
Those were big shoes to fill and he did it bravely!
The stage was on fire: voice and facial expressions, good humour (which they have definitely kept up to date!), dancing, excellent comic skills and physicality from ALL the cast members, singing, tap dancing and even Stomp style – what's not to love!
The cast was brilliantly talented, and the ensemble did a great job of creating the atmosphere.
I think watching Lisa Mathieson and Matt Overfield really shows that you can stand out in an ensemble.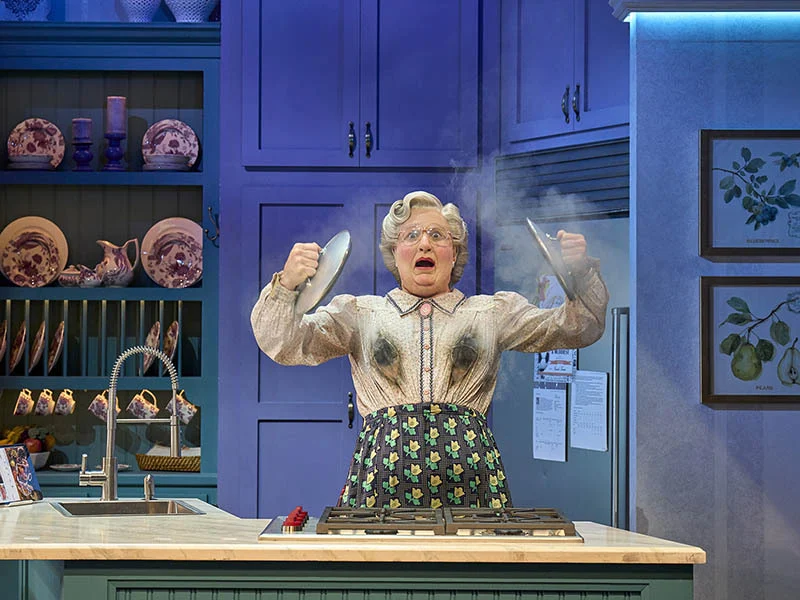 Who Will Enjoy The Musical? Tickets & More Information
The audience was a mix of all ages, from children to adults, and they all loved it. However, I feel that the teenagers will understand and appreciate it more than the children.

I laughed and cried; they have undoubtedly succeeded in giving us the warm family feeling of the film.
As an audience member said on her way out at the end of the musical, "It was insanely amazing!"
Tickets can be found on sale at LondonTheatreDirect & LOVEtheatre

Heads-up: recommended for over 6 years of age.
The musical runs for 2 hours and 30 minutes, including intermission.
And in the words of Mrs. Doubtfire – "So long, poppets" :)

The musical is currently showing until January 2024 at the West End Shaftesbury Theatre, London.
Click here to read some of the reviews
The West End Theatre Shaftesbury Theatre, London
The venue is large with a capacity of 1400 but feels intimate.
The auditorium has 3 levels and balconies on the sides.
The pink and rouge colours along with the old structure and chandeliers are charming and captivating as soon as you enter.
In a nutshell, the theatre opened in 1911 and was called the New Prince's Theatre. It was renamed the Prince's Theatre in 1914 and advertised during the First World War as 'The Laughter House where you can forget the war'. However, its name changed again to the Shaftesbury Theatre when it reopened in 1962.