Frozen, The Musical
The musical Frozen is based on the classic Disney animated film Frozen.
The successful musical has won 7 Whatsonstage Awards.
Frozen has moved from New York to London, joining The Lion King as part of London's regular line-up of Disney musicals, and a new Disney musical in London is always a celebration!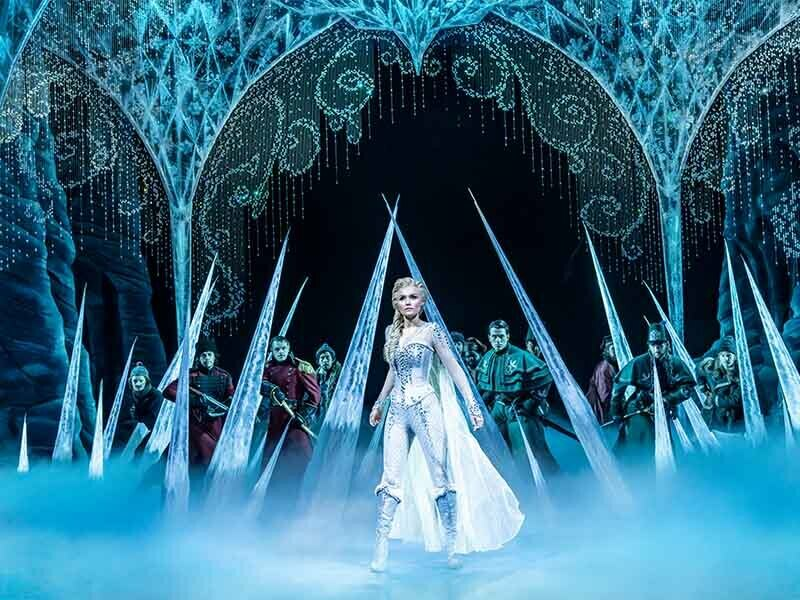 It's a full-on, multi-stunt show with lots of humour, stunning sets and a superb cast.
It was interesting to see how they managed to stage scenes that work in a cartoon but would be difficult to pull off in reality.
A dazzling stage with fast-changing sets and costumes, combined with visual effects that make you feel like you are in a magic show.
To conclude, Frozen the musical is everything you would expect from a Disney musical and a little bit more, so enjoy the experience!
Just to give you a taste, here is the trailer
Required level of English
You may not understand every word, but you will be able to follow the story as it unfolds on stage.
We always recommend that children watch the film first as it will definitely help their understanding.
Who Will Enjoy The Musical? Tickets & More Information
Frozen is a musical for all the family. Children will be captivated by it and adults will enjoy it too!
Frozen is recommended for children over the age of 6.
The musical is showing at the West End Theatre Royal Drury Lane located in the City of Westminster, central London.
Tickets can be found in London Theatre Direct and are currently on sale until October 2023.
Heads-up: 4 years old and under will NOT be allowed in.
The musical runs for 2 hours and 30 minutes, including intermission.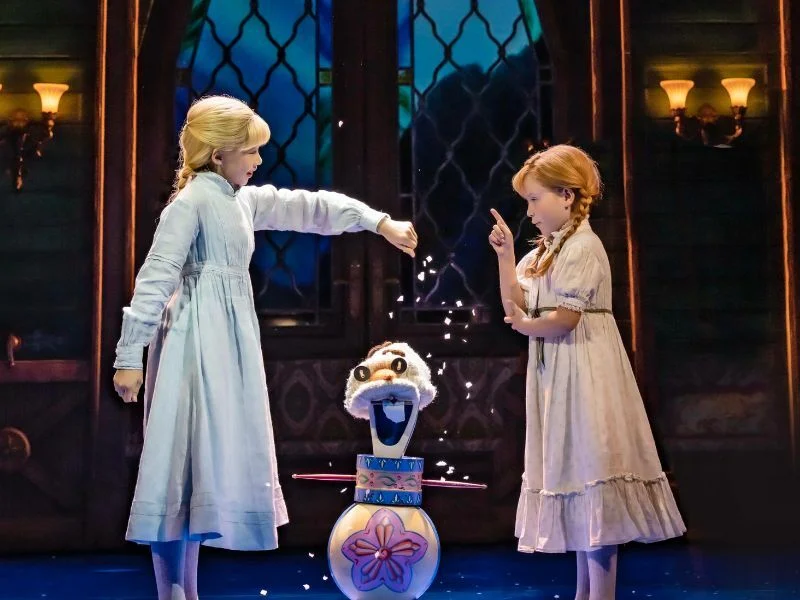 Recommended seating area
On the ticket website, seats are colour coded according to price – the higher the price, the better the seat.
Please note that if a semi-circle appears, it means that this seat has a limited view of the stage.
We sat in the Stalls relatively to the side and could see very well. We also had a good view from the Dress Circle.
We would not recommend the Grand Circle or the Balcony area as they are very far from the stage.
Click here to read some of the reviews
Other recommended London musicals for children
There is, of course, The Lion King, which is remarkable.
We also liked Matilda and Wicked, which are fun and witty, but require a higher level of English.
These are all suitable for adults, we know because we enjoyed them!
For more plays and musicals, check out London Musicals and Plays 2023