Wicked
One of our favourite musicals in London!
The musical has been running in London for almost 20 years and has won over 100 awards including Tony, Olivier and a Grammy!
Everything about this musical is epic and impressive: The stage and sets, the costumes and the work of the cast – just striking!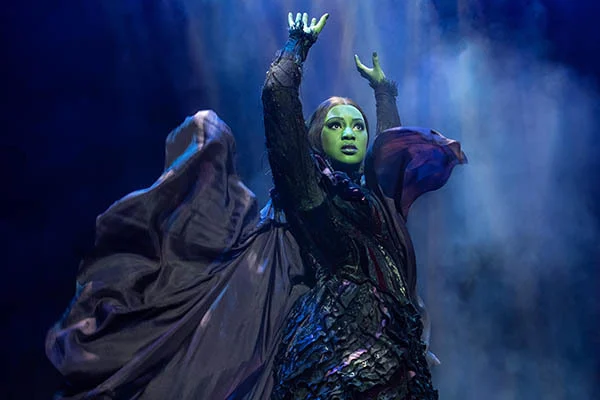 The Story
The musical Wicked tells the untold story of the 'Witches of Oz', the alternate universe of L. Frank Baum's 'The Wonderful Wizard of Oz', in an imaginary time and space.
The musical reveals the events that shape the destiny of an unusual friendship between two girls on their journey to become the Good Glinda and the Wicked Witch of the West.

Who Will Enjoy The Musical? Tickets & More Information
The musical for the whole family, great for teens and adults alike!
The level of English required is intermediate, but you will be able to follow the action and enjoy the spectacular sets and songs.
It is currently playing at the West End Apollo Victoria Theatre, which has been its home for 17 years! Tickets are currently on sale until November 2023.
Even after years of running this musical, the venue is packed almost every night and it is highly recommended that tickets are purchased in advance.

The following are trusted ticket sites:
London Theatre Direct– a well established reliable site, recommended!
headout– an international site, discount code for our readers is GOLND
LOVEtheatre – a well known site with good options for combining tickets with a meal on the same day.
Heads-up: Wicked is recommended for ages 7+. Children under the age of 4 are NOT permitted.
The musical runs for 2 hours 45 minutes including one intermission.

Click here to read some of the reviews