The musical "Everybody's talking about Jimmy" is coming back on May 20th, 2021 with social distancing.
More Updates:
– "Everyone is talking about Jamie" received the Olivier awards for Best Musical, Best Actor, and Best Supporting Actress.

– Soon "everyone's talking about Jimmy" the movie …. details and trailer on this page.
Everybody's Talking About Jamie – musical in London
Let's start with the bottom line:
Everybody's Talking About Jamie is, in our opinion, the best new musical in London.
The story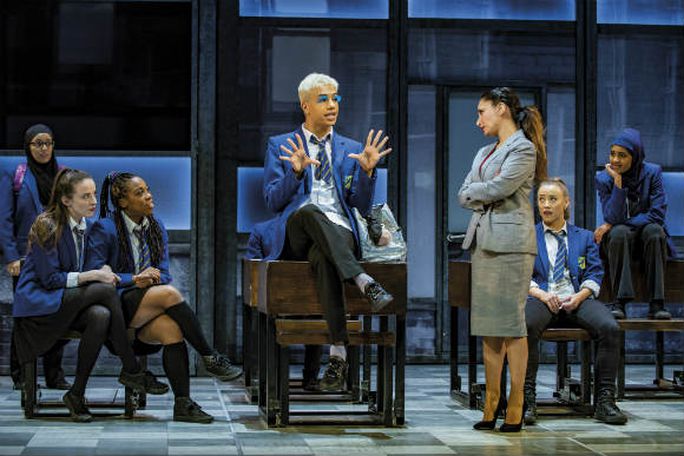 The musical is based on a true story and a BBC documentary.
A 16-year-old Sheffield boy dreaming of being a drag queen and wants to come to his school prom wearing a dress.
It's not a dramatic play about coming out of the closet or about a drag show.
It is a fun musical yet very emotional, about a teenager's growth and his dealing with the society around him.
Of course, there is a sportive mother and a problematic father, but this is primarily a story about Jamie and his way of fulfilling his dream.
"Everyone's talking about Jamie" started in early 2017 in the city of Sheffield, moved pretty quickly to the West End (central London) and became a hit, surviving even the Coronavirus.
Our opinion
A modern original musical that is fun and at the same time touching.
Very well played with great vocals and feel-good atmosphere
We LOVED it.
We see a lot of musicals and "Everyone Talks About Jimmy" is on the top of our list.
Everybody's Talking About Jamie vs Billy Elliot and Kinky boots musicals
It is impossible not to find similarities to the well-known musicals:
Billy Elliott (currently not running in London)
A story of a young and talented boy dealing with the society around him, when he is not going in the expected direction.
Jamie is updated story for today.
Kinky boots (not running in London – went on a tour in the UK)
A traditional shoe factory that is transformed to produce shoes for drag queens.
Both are about drag queens but the drag scenes in "Everyone Talks About Jimmy" are a marginal part of the show.
Trailers
New cast trailer:
Audience reactions:
Everybody's Talking About Jamie tickets
The reviews are praiseworthy and the tickets are snatched, it is recommended to book tickets well in advance.
"Everyone's Talking About Jamie" is showing at the Apollo Theatre on Shaftesbury Avenue, near Piccadilly Circus Underground Station.
There is a show every evening except Monday and an afternoon performance (matinee) on Saturdays and Sundays.
Links to the musical page on reliable ticketing sites:
LondonTheatreDirect
LOVEtheatre
We recommended listening to the soundtrack of the musical.
You are of course welcome to share your experiences with us.