London is a great city of culture with a wide variety of Musicals, some of which are new for 2017 and many that have been running for some time. Below we list the most popular ones and we will regularly update this page as and when new musicals are released.
Recommended Ticket Sites
We would always recommend you buy your theatre tickets online as this will, in most cases be cheaper, or in the worst case, same price as the box office. Our recommended sites are:
London Theatre Direct – Has dedicated pages by subject, type of show as well as easy searching by date: Musicals Page – Theatre Plays Page – Opera Page – Concerts Page – Dance and Ballet – London Tourist Attractions Page, Last Minuets/the same day page and a combination between musical and dinner option here.
LOVETheatre – Especially good for deals combining theatre/musicals and dinner
Popular Theatre Plays and Musicals Still on the London Stage in 2017
London is a great city for theatre plays and musicals, with many running for several years, and some that appear to be running much longer with no end in sight. Below we list some of the better ones that we recommend:
Kinky Boots *our favorite
Beautiful – The Carole King Musical
The Curious Incident Of The Dog In The Night (run until June 2017)
Cats (Not Currently Running)
Billy Elliot (Not Currently Running)
Bad Jews (Not Currently Running)
Charlie and the Chocolate Factory (Not Currently Running)
Sunny Afternoon (Not Currently Running)
Miss Saigon (Not Currently Running)
War Horse (Not Currently Running)
wonder.land (Not Currently Running)
Bend It Like Beckham – The Musical (Not Currently Running)
Jersey Boys (Not Currently Running)
Guys and Dolls (Not Currently Running)
In The Heights (Not Currently Running)
New Theatre Plays and Musicals for 2016-2017
February 2016 – Motown the Musical, Mrs Henderson Presents, The War of the Worlds

Motown the Musical is on at the Shaftesbury Theatre from 11 February 2016.
The musical portrays the true life story of Berry Gordon, the founder of Motown, who helped propel the careers of Diana Ross, Michael Jackson, Stevie Wonder, Smokey Robinson, and so many other famous names. The musical includes 50 of the greatest songs, including 'Dancing In', 'My Girl', 'I heard It Through The Grapevine', 'Ain't No Mountain High Enough', 'The Street' and so many more.
Mrs Henderson Presents is on at the Noel Coward Theatre between 9 February and 18 June 2016.
The musical is based on the movie by the same name starring Judi Dench, and is the true-life story of Mrs Henderson who ran the Windmill Theatre in London's Soho before outbreak of World War II and refused to close it during the bombings. The story depicts the high's and low's of running a theatre.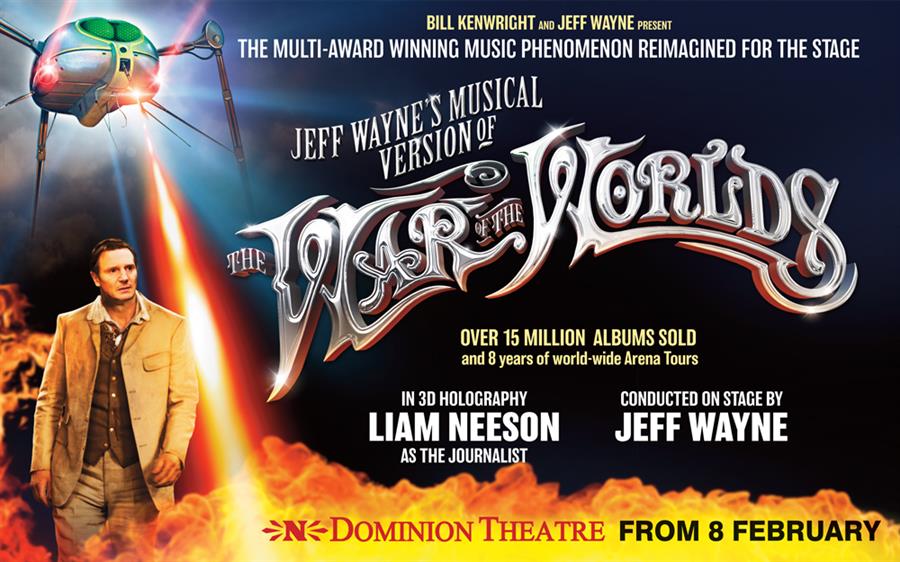 The War Of The Worlds is coming to the Dominion Theatre between 8 February and 9 April 2016.
The name is familiar to you from the original sci-fi movie of the same name from the 1950's and the remake in the mid 2000's and of course, the original H.G.Wells book of the same name in 1897. It is the story of a Martian invasion of earth.
April 2016 – Funny Girl, Sunset Boulevard

Funny Girl opens at the Savoy Theatre on 9 April 2016 following a very successful run at the Menier Chocolate Factory.
This is a remake of the famous and successful musical in the 60's and later made into an Oscar winning movie both starring Barbara Streisand. It is the story of Fanny Brice, who rose from the Lower East Side of New York to become one of Broadway's biggest stars. She enjoyed great acclaim onstage as a comedienne but offstage she faced a doomed relationship with the man she loved. Some of th songs you can expect to hear are "People", "You Are Woman, I Am Man" and "Don't Rain on My Parade".
Sunset Boulevard opens for a limited run of one month between 1 April and 7 May at the London Coliseum run by the ENO and starring Glenn Close who played at the original musical on Broadway in 1994. The musical is based on Billy Wilder's classic film of the same name from the 1950's.
May 2016 – Disney's Next Big Hit – Aladdin
Aladdin opens at the Prince Edward Theatre on 27 May.
Disney's famous movie is remade into a thrilling and bright musical that is a must see.
Aladdin falls in love with the princess Jasmine but they cannot be married as he is not a prince. Luckily for Aladdin he has in his possession a magic lamp with a genie who will help him get the woman of his dreams. The musical includes some of the famous songs from the movie as well as a few new songs written specifically for the musical by Alan Menken.
June 2016 – Groundhog Day – The Musical
Groundhog Day is a new musical written by Tim Minchin (who also wrote the Mathilda musical) and will be on at the Old Vic in June this year. Tickets go on sale on 12 May 2016.
The musical is based on the movie of the same name starring Bill Murray, which sees a weather reporter stuck in the same day over and over again trying to make it perfect.
July 2016 – Jesus Christ Superstar, Running Wild, Pride and Prejudice in Regent's Park

Jesus Christ Superstar the musical will be at the Open Air Theatre in Regent's Park between 15 July and 27 August 2016 in order to celebrate 45 years since it was first written by Andrew Lloyd Webber and Tim Rice. The Open Air Theatre will also be showing Running Wild, Henry V by William Shakespeare and Pride and Prejudice by Jane Austen.
2016 – Off West End theatre
In addition to the many popular theatre plays and musicals in London's West End, there will be a number of smaller productions off West End, including:
Bugsy Malone – Lyric Hammersmith 11 June to 4 September 2016.
Hairspray – Churchill Theatre Bromley 03 May to 07 May 2016.
Chitty Chitty Bang Bang at New Wimbledon Theatre
Chitty Chitty Bang Bang – 20 July to 30 July 2016.
For Next Year – Spring 2017 – School Of Rock
In spring 2017 (tickets on sale in Spring 2016), School of Rock is due to go on stage at the London Palladium. Based on the film of the same title from 2003 and with music by Andrew Lloyd Webber and Glenn Slater, it follows the story of Dewey Finn, a substitute teacher at a prestigious prep school who dreams of becoming a rock star, and when he realises his students have musical talent he forms a rock group to win the battle of the bands.