March in London is a great time, especially as the cold snap starts to disappear, the weather warms up and you can start seeing the spring sun break through.
The month is full of festivals, including the Hindu Holi Festival of Colours, the Jewish festival of Purim, the Christian Saint Patrick's Day and the Christian Easter holiday which brings with it 2 Bank Holidays in the UK, Good Friday (25 March) and Easter Monday (28 March).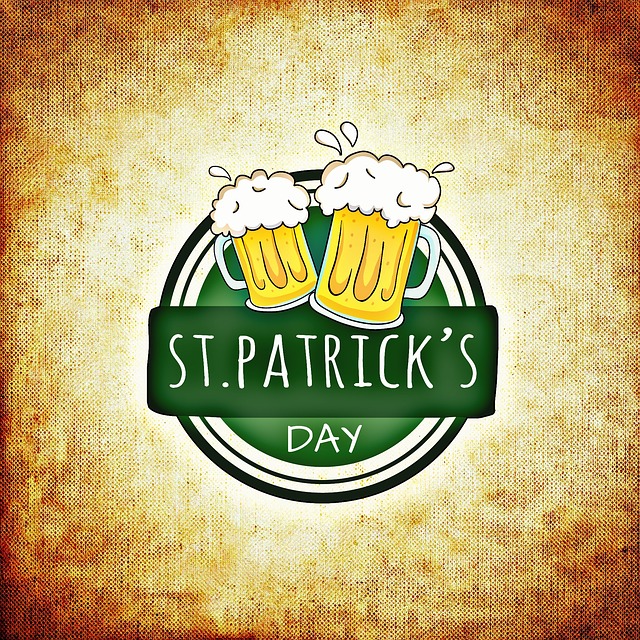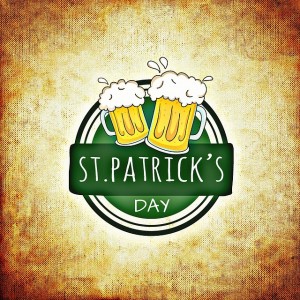 In addition to this article, you can follow these links to our other pages of what to do in London during March and the following months:
Many festivals, exhibitions, new shows and other special events are happening in London throughout March 2016:
London Drinker Beer and Cider Festival
As the name suggests a beer and cider festival with over 150 types of beer, real ales, cider, wine and many more drinks to try both local and foreign imports, with something for everyone available. The festival takes place between Wednesday 2 and Friday 4 March at the Camden Centre, near Kings Cross/St Pancras Station.
Entrance is free until 15:00 and £4 afterwards, further details available on their website: http://www.northlondon.camra.org.uk/viewnode.php?id=772
Address: Camden Centre, Bidborough Street, WC1H 9AU
Bouncingham Palace
To celebrate the launch of the new Candy Crush Jelly Saga game, the developers have erected a bouncy castle near the City Hall building in the London Bridge area of London between Thursday 3 and Saturday 5 March. The castle will be 7 metres tall and free to enter, although you do have to be over 16 years of age. More details here: http://www.morelondon.com/events/calendar/candy-crush-jelly-saga-castle
Address: 2A More London Riverside, SE1 2DB
The Spring Knitting and Stitching Show
The ideal event if you are into knitting and stitching, and markets itself as "The definitive event for anyone with a love of stitch and craft", the event will include 6 large textile galleries, many workshops, live presentations, expert tips and over 200 exhibitors which will be selling their goods between Thursday 3 and Sunday 6 March.
Entrance is £13 for adults and £6 for children up to the age of 18. For full details: http://www.theknittingandstitchingshow.com/spring
**Special Offer** You can currently get tickets from only £5 at Groupon.
Sample Sale
Many leading design houses and brands are holding a Sample Sale where you can buy the designer clothing at big discounts. Items on sale include clothing, lighting, household goods and more. It is being held at Victoria House in Holborn from Friday 4 to Sunday 6 March. The sale comes as a result of these companies trying to get rid of their winter lines in preparation for the Spring collection.
Tickets are £5 in advance or £8 at the door. Full details on their Facebook page.
Address: Victoria House, Bloomsbury Square, WC1B 4DA, next to both Victoria and Russel Square underground stations.
House of Holi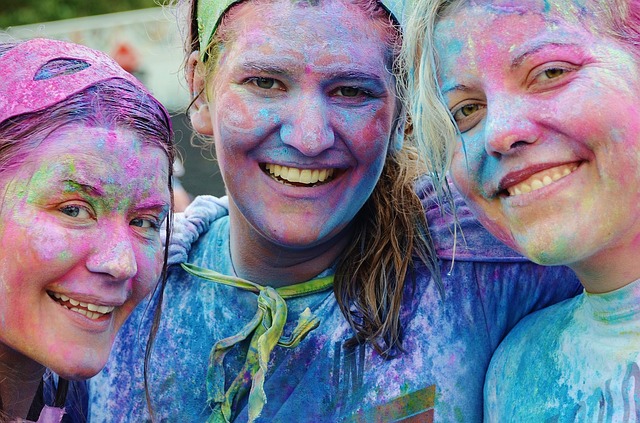 If you would like to cover each other with bright colours and celebrate the Hindu festival of Holi which symbolises the arrival of spring, the ending of winter, good winning over evil, and a thanksgiving for a good harvest and some say it is a festival of no karma (you can feel free to cover your friends with colours without any bad karma), then come to the House of Holi party pod sponsored and created by that tasty Indian restaurant, Cinnamon Kitchen in the heart of the city next to Liverpool Street station, you will be able to get a white overall (to protect your clothes if you are feeling less adventurous) and go crazy with colour for a half hour session.
Tickets start at £8 including a white overall or £15 including the white overall, a cocktail and some canapés. The restaurant is also offering a special menu for the occasion with special dishes. The event runs from Friday 4 to Saturday 12 March.
For full details see their website: http://www.cinnamon-kitchen.com/play-holi-2016/
Address: Devonshire Square, EC2M 4WY
Urban Food Fest
Every Saturday from 5 March 2016 (until Mid December), an ordinary car park in Shoreditch is transformed into an amazing food market with tastes and flavours from all over the world from the afternoon through to midnight, and best of all, entrance is free.
For full details see their website: http://www.urbanfoodfest.com/
Address: Euro Car Parks, 162-167 Shoreditch High Street, E1 6HU
WOW – Women of the World Festival
The largest organised Women's festival in the world will open on International Women's Day and will take place for the 6th time at the Southbank Centre from Tuesday 8 to Sunday 13 March. There is a full and varied schedule during these few days including shows, lectures, discussion groups and workshops on a wide variety of topics. These include Women at work, Women Leaders of the world, politics, violence against women, the challenges women face around the world, the immigrant crises, men's position in the fight for equality and much more.
Some of the events are free and others will cost between £5 and £15 to attend or £20 for a weekend pass. Full details on their website: http://www.southbankcentre.co.uk/
Cocktails in the City
20 of the world's best bars from London, Paris and Amsterdam will be at the drinks festival running from Thursday 10 to Saturday 12 March at the beautiful building that is One Mayfair, not too far from Bond Street Underground station.
Tickets start at £15 and full details on their site: http://www.cocktailsinthecity.co.uk/london/
Address: One Mayfair, North Audley Street, W1K 6ZA
Affordable Art Fair Battersea
A large and popular art fair that happens twice a year in London (during March in Battersea and June in Hampstead) with a large selection of affordable art – Drawings, Prints, Photographs, Statues, and more – by more than a thousand different artists at affordable prices from around £100 to around £5,000. This year there will also be workshops for adults and children.
The fair takes place between Thursday 10 and Sunday 13 March, tickets are between £10 and £20.
Full details on their website: http://www.affordableartfair.co.uk/
St Patrick's Day Parade and Festival
St Patrick's Day takes place on 17 March this year, although the festival will take place the weekend before, on Sunday 13 March, there will be a parade representing each of the 32 separate counties of Ireland, it starts at Green Park next to Hyde Park Corner, travels around Piccadilly Circus and Trafalgar Square and ends at Whitehall.
Trafalgar Square will host an Irish food market from 12:00, there will be many activities and shows to see including plenty of things for kids to do. In addition, there will be an Irish Film Festival at the Regent Street Cinema.
For full details, see the website: https://www.london.gov.uk/events/2016-03-13/st-patricks-day-festival-and-parade-2016
Country Living Magazine Spring Fair
A fair with over 400 exhibitors selling household and garden goods and services, including tool, clothing, homewares, jewellery and much more including workshops with professionals. It takes place between Wednesday 16 and Sunday 20 March at the Business Design Centre in Islington.
Tickets are £14 for adults and £9 for children (free for under 5s). Full details on their website: http://www.countrylivingfair.com/
Move It
From Friday 18 to Sunday 20 March there will be a huge dance event at ExCel London, covering all types of dance from Ballet to Hip Hop and everything in between. There will be over 250 different dance classes you could take, shows with over 1,500 dancers, workshops to further your dance career and preparation for auditions amongst the activities on offer not to mention all the stalls selling everything you could want that is dance related. The show is suitable for all levels of dancer and all ages.
tickets are £15.50 for adults and £11.50 for children if booked in advance or £19 and £14 if purchased on the door.
Full details: http://www.moveitdance.co.uk/
Glow: Purim in the City 2016
The UJIA (United Jewish Israel Appeal) charity is hosting a large party in the City of London to celebrate Purim on Saturday 19 March from 21:00 until the wee hours of the night. There will be 2 dance floors, 3 bars, plenty of ultra violet lighting, costumes and a few surprises.
Tickets are £20 in advance or £25 at the door. Full details here: http://ujia.org/event/glow-purim-in-the-city-2016
Address: The Anthologist, 58 Gresham Street, EC2V 7BB
The London International Ska Festival
Over 60 shows will take place all over London as part of the festival during the Long Easter weekend from Thursday 24 to Sunday 27 March.
Tickets are between £10 and £25 and can be bought here. For further details: http://www.londoninternationalskafestival.co.uk/
Sadler's Wells Family Weekend
On Friday 25 and Saturday 26 March there will be a dance festival for the whole family, including 2 headline Ballet shows with a modern twist on Snow White and a new show called Digitopia – a show combining dance and digital technology. In addition to the shows there will be number of dance workshops for parents and children as well as a few other free activities.
Snow White tickets are £18 for adults and £12 for children.
Digitopia tickets are £12 for adults and £7 for children.
Full details on their website: http://www.sadlerswells.com
The Passion of Jesus
If you are interested in seeing the story of the crucifixion and resurrection of Jesus, make your way to Trafalgar Square on Good Friday (Friday 25 March). Over 100 actors in period clothing (and live animals) will be present to a create a 90 minute spectacle twice during the day, once at 12:00 and again at 15:15. Entrance is free.
Further details here: https://www.wintershall-estate.com/events/the-passion-of-jesus/
New Exhibitions in London
Hilma Af Klint: Painting the Unseen
A collection of works by the Swedish artist who is regarded as a pioneer of abstract art will be shown at the Serpentine gallery from Thursday 3 March to Sunday 15 May. Entrance is free.
Website: http://www.serpentinegalleries.org/
Botticelli Reimagined
The largest Botticelli exhibition in London since 1930 will take place between Saturday 5 March and Sunday 3 July at the Victoria and Albert Museum (V&A).
Tickets are £15.
Website: https://shop.vam.ac.uk/whatson/index/view/id/861/event/Botticelli-Reimagined
In the Age of Giorgione
The exhibit that will shed new light on the Venetian renaissance period and the desire that led to the great change in the understanding of art in the 16th century. This is the period when Venice became the capital of European art. Alongside works by Giorgione, you will find masters including Titian, Dürer, Bellini and others.
The exhibition will open from Saturday 12 March to Sunday 5 June at the Royal Academy of Arts. Tickets are £11.50 for adults and free for children up to the game of 16.
Website: http://www.royalacademy.org.uk/
Strange and Familiar: Britain as Revealed by International Photographers
A photographic exhibition showcasing how international photographers have captured the social, cultural and political identity of the UK from the 1930s onwards.
Tickets are £12.
Website: http://www.barbican.org.uk/artgallery
Russia and the Arts: The Age of Tolstoy and Tchaikovsky
Russia and the Arts is a once-in-a-lifetime opportunity to see masterpieces on loan from the State Tretyakov Gallery in Moscow. The exhibition will focus on the great writers, artists, composers and patrons, including Tolstoy, Chekhov and Dostoevsky, whose achievements helped develop an extraordinary and rich cultural scene in Russia between 1867 and 1914. The exhibition will also show how Russian art of the period was developing a new self-confidence, with the penetrating Realism of the 1870s and 1880s later complemented by the brighter hues of Russian Impressionism and the bold, faceted forms of Symbolist painting.
The exhibition runs from Thursday 17 March to Sunday 26 June. Tickets are £6.
Website: http://www.npg.org.uk/russia
New Plays and Musicals in London
In addition the large selection of musicals and plays already in London there will be a few new ones starting in March 2016:
The Painkiller
The first season of the Kenneth Branagh Theatre Company promises a year of unmissable theatre. Two men. Two lonely hotel rooms. An adjoining door. One of them is a killer. One of them wants to die. What could possibly go wrong?
You can catch it between 5 March and 30 April. You can buy tickets here.
Miss Atomic Bomb
A new funny musical set in 1952 in Las Vegas. As the US military proudly tests its atomic bombs within sight of the Vegas strip, tourists are flocking into town to cheer the blasts and see who will be crowned the Miss Atomic Bomb beauty queen. But in the midst of this euphoria, farm girl Candy's (Florence Andrews) sheep have mysteriously died, her fashionista friend Myrna (Catherine Tate) is designing clothes for pigs, young soldier Joey (Dean John-Wilson) has deserted the army, and his hapless hotel manager brother Lou (Simon Lipkin) desperately needs an atomic gimmick. In a city controlled by the military and the mob, time is running out for our four friends.
The show opens the spring season at the St James Theatre and runs from 7 March to 9 April. Tickets here.
If You Kiss Me, Kiss Me
A special show with no real dialogue, part gig, part dance piece and featuring Jane Horrocks who takes us through growing up in the North West via song and dance, including music from the '70s and '80s, with music form the Smiths, New Order, Human League and others.
The show will take place the Young Vic Theatre, near Waterloo station, between 10 March and 16 April. Tickets here.
People, Places and Things
Following a successful and sold-out season at the Doorman Theatre, the play finally comes to the West End. A play about surviving the modern world, an actress who is just out of rehab and trying to put her life back together.
The play runs from 15 March to 4 June at the Wyndhams Theatre. Tickets here.
All That Falls
A new experiential production of the original radio play by Samuel Beckett, in which the audience is blindfolded and accompanied by Mrs Maddy Rooney on a journey to find and surprise her blind husband on his birthday.
The show runs from 22 March to 9 April at Wilton's Music Hall in Tower Hill. Tickets here.
March 2016 Special Offers
Cooking Lessons
Atelier des Chefs, a great cooking school with two central London locations is offering short courses of 30 minutes and longer courses of up to 4 hours of cooking with different cuisines (British, Classical French, Thai, and many more). From now until the end of 2016, you can receive 10% off on their website by using the code ATEL10. Bon Appetite.
Boutique Hotel – every Piccadilly
A great boutique hotel which we love and recommend is celebrating one year in London and are offering our readers a special offer:
£20 off your stay and a few little surprises await you if you book before 22 March 2016 (for stays up to February 2017) using the code BBY01 through this link.
25% off your stay until 11 April 2016 using the code ZZZ14 through this link.
If you like this page don't forget to follow us on Twitter and like our Facebook Page where you will see more posts from your Local team.