London's cat cafe – Lady Dinah's Cat Emporium, is a cafe with a difference, situated on Bethnal Green Road, just 5 minutes walk from Shoreditch High Street Station and the ever popular Boxpark Shoreditch.
As you step into the emporium you are greeted by warm, friendly and knowledgeable staff who provide the Do's and Don'ts of playing with the cats you are shown to your table but are free to roam both floors which have an almost homely, lounge type feel and ambience. There is some light music playing in the background, the cats are happy, with some randomly sleeping on bookcases, cat beds, shelves, while others are running around playing with other visitors, being stroked, and generally acting like cats.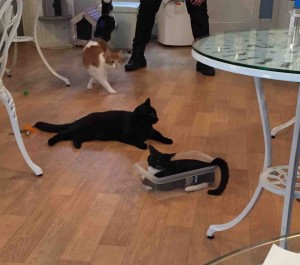 All ten cats and 2 kittens are moggies, have been saved from shelters and are most certainly playful, there are plenty of toys for you to interact with the cats, including hair brushes, string (what cat doesn't love a piece of string!) and other cat toys, as well as plenty for the cats to entertain themselves such as climbing walls, cat beds, tunnels and grass covered shelves which they like to jump onto and jump off of, which is a sight to see!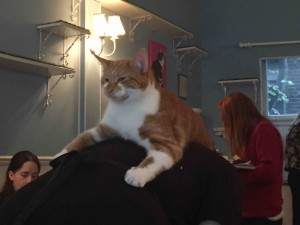 There are always staff on hand to show you how to play with the cat and provide some entertainment if the cats are being particularly cat like and just napping in the corner, so you are assured to always have at least a few awake cats around you.
Although no cooking takes place on the premises, some hot food is offered, in the form of Goulash on the day I was there, together with a nice menu consisting of sandwiches, snacks, cakes and scones, with afternoon tea including clotted cream, jam, scone and a pot of tea for only £6. There is a fine selection of teas and coffees to suit all tastes.
If you are a cat lover, or just curious to see cats following their day to day lives this is the place for you, warm, friendly, and plenty of opportunity to stroke, play with and enjoy the cats.
Guest cover charge for visit £6 
Address:  152-154 Bethnal Green Road, London E2 6DG
Phone :  +44 (0) 2077290953
Not recommended for those allergic to cats.
For more details and booking  – Lady Dinah's Cat Emporium website