Today there are 3 shows featuring ABBA songs in London:
– The musical Mamma Mia!
– Mamma Mia! The Party
– ABBA Voyage
All on this page.
Mamma Mia! the musical, London

Mamma Mia! is one of the most successful musicals in the world, especially in London.
The musical Mamma Mia! has been running in London for more than 20 years and it looks like it will be running for many more.
To date, more than 60 million people around the world have seen Mamma Mia! In fact, following the success of the musical, a sequel, Mamma Mia – Here We Go Again, was released in 2018.
The story is set on an idyllic Greek island.
It is about the friendship between three women and a girl's search for identity as she searches for her biological father.
All this takes place on the weekend of the girl's wedding, to the sound of ABBA's hits.
Mamma Mia is a classic musical filled with joy!
Who is The musical Mamma Mia! for?
If you fancy a cheerful, light-hearted musical with Abba songs, then this is for you.
We have found that the musical is less suitable for children unless they are familiar with the songs. However, we have recently received enthusiastic responses from parents who have been with their children and really enjoyed it.

Heads-up: The recommended age is 5+. The musical runs for 2 hours 35 minutes with a 15 minute intermission.
Where Can I Buy Tickets For The Musical Mamma Mia?
The musical is performed every evening except Tuesday, with matinee performances on Thursday and Saturday at 3pm.
Sunday performances are at 2.30pm only.
It is advisable to check that there have been no changes before booking.
Tickets are currently on sale for performances until March 2024.
Recommended Ticket Sites
We have checked the prices and booked through them:
London Theatre Direct – Old and reliable!
Headout – International ticket site (discount code GOLND)
LOVEtheatre – A great site for ticket and dinner packages.

Click here to read some of the reviews

ABBA Voyage – A Captivating Hologram Show In London
Not far from the Olympic Park in Stratford, a hall has been built called the ABBA Arena, where a concert by the band Abba takes place every night using holograms.
The band members are not present, although on the opening night the Abba members themselves came on stage to greet the audience!
It's a unique musical and technological experience, and we suspect we'll be seeing more of this kind of 'live' performance in the future.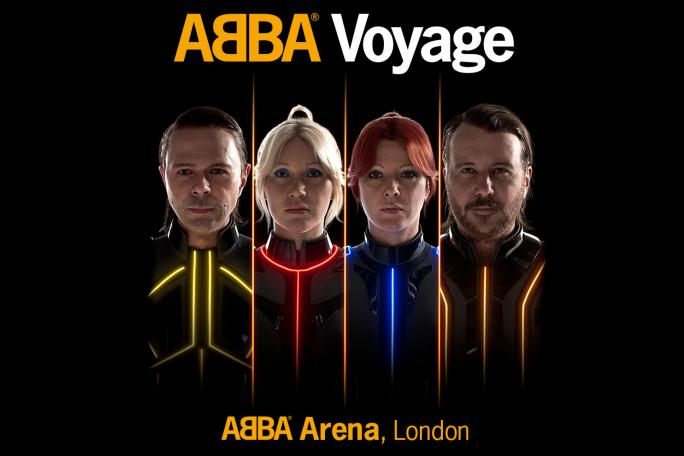 Tickets for ABBA Voyage – The Hologram Show In London
Tickets are on sale now for performances until May 2024 and are available on the London Theatre Direct.
Second hand tickets for sold out shows can be found on Stubhub.
We were in the standing area (dance floor) and had a great time. There seems to be a good view from anywhere in the hall, which is not very large.
Heads-up: The recommended age is 6+. The musical runs for 1 hour 30 minutes with NO intermission.
Mamma Mia, The Party
First there was the musical Mamma Mia, then two films and now the party that takes you to a Greek island wedding with food, live music and a good time!
The Party had its start in Sweden and, after a huge success, became a regular event at London's O2 complex.
The event is up to four hours of entertainment.
A Greek celebration with 3 Mediterranean dishes, including an alcoholic drink at the beginning, a show between each dish, including Abba songs of course, and at the end you can stay and dance to… you guessed it, Abba!
The atmosphere is that of a Greek tavern, with the owner Nikos, his family and friends taking part in the story.
A special mention goes to Noa Sinigalia, a talented Israeli actress who is now part of the new cast.
Tickets for Mamma Mia, The Party In London
It is advisable to book tickets well in advance.
Tickets are pricey but include a meal, drink, show and after party.
Tickets are now being sold on the Theatre Tickets Direct website.
Tip – The price is slightly lower in the middle of the week.
You might also like…
For more musicals based on the songs of a particular band/singer, try Tina Turner Musical.
If you loved Mamma Mia, you'll love the stunning remake of Moulin Rouge, with its familiar songs.
If you want to see amazing sets and impressive effects, try musicals like Back to the Future The Musical, Frozen or The Lion King.
For witty adult humour, try Book of Mormon or Hamilton.
For classic musicals, try Les Miserables and Phantom of the Opera.
For a witty and sophisticated musical, try Matilda.
For a musical suitable for children or a musical with simpler English, try Frozen or Wicked, which is more suitable for teenagers.
If you are looking for a play rather than a musical, try Witness for the Prosecution, The Mousetrap – both Agatha Christie classics – or alternatively The Play That Goes Wrong, which is ridiculously funny!
For more options and details, see our guide to Plays and Musicals in London.